Aluminum Perforated Architectural Mesh
Aluminum Perforated Mesh Sheet is widely used in the architectural, engineering, building construction as decorative screen panels, factory suspend ceiling wall and metal materials of sound absorption.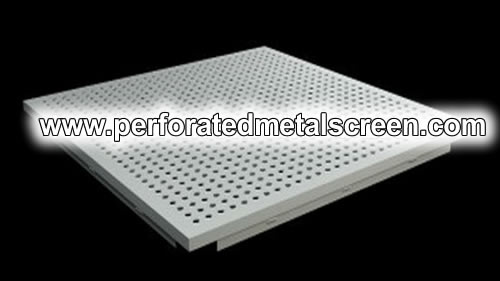 Aluminum Perforated Sheet Used as Suspending Ceiling Acoustic Panels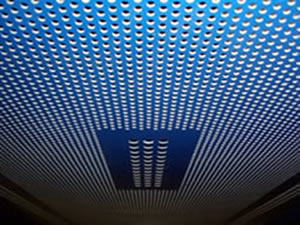 Perforated Aluminum Metal Ceiling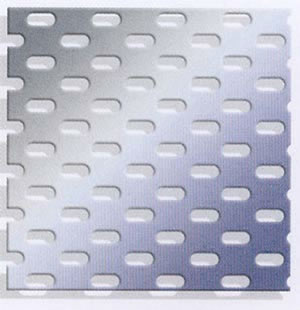 Aluminum Perforated Metal Mesh Sheet with Decorative Patterns, Suitable for Architectural Designs
Blatt supplies two types of Aluminum Perforated Ceiling Tiles: Clip-in and Lay-in type. Our aluminum perforated ceilings work both as decorative ceiling tiles and acoustic screen materials. Our perforated ceiling panels are mainly used in Airport, Railway station, Metro, Bank, Hotel, Supermarket, Exhibition Hall, Restaurant & House for decoration.
Panel Size:300x300;600x600;300x1200;600x1200mm
Panel Thickness:0.30-1.0mm
Specification of Aluminum Perforated Ceiling Panels / Tiles:
Ceiling Type
Model
Size(mm)
Standard Thickness(mm)
Clip-in Ceiling
Bl-FA300
300*300
0.5
Bl-FA400
400*400
0.7
Bl-FA500
500*500
0.7
Bl-FA600
600*600
0.7
Bl-FA300*1200
300*1200
0.8
Bl-FA600*1200
600*1200
1.0
Lay-in Ceiling
Bl-FM600
585*585
0.7
Bl-FM300*1200
285*1185
0.7
Bl-FM600*1200
585*1185
0.8
Material, hole types and description of perforated aluminum sheet:
Material: Aluminum alloy of various grades
Sheet Size:1m*2m,1.22m*2.44m
Holes diameter (0.3 millimeters -100 millimeter)
Descriptions: Perforated aluminum sheet / plate is firm and has a long performance life. It is mainly used for civil construction, protection of the mechanical equipments, manufacturing of handicraft products, slap-up sound box mesh enclosure, guardrail of highway, purse net of play ground and protective netting of green belt. Heavy sized aluminum plate mesh is used for tankers foot pedal mesh, working platform, staircase and pavement of heavy machineries, boilers, mines, locomotives and tonner steamship.
Hole patterns available for perforated aluminum metal mesh:
Aluminum sheet can be punched into following holes: round, Rectangular hole, square, Triangle, Diamond, Hexagonal, oval, Cross, scale shape and composition of different shapes, also other special shape according to your request.
Features: Aluminum perforated plate offering the following benefits:
1. Can be readily formed
2. Easy installation
3. Can be painted or polished and anodizing.
4. The thickness of materials is wide range from 0.3mm-8mm.
5. Largest selection of hole size patterns and configurations
6. Uniform sound abatement,
7. Attractive appearance,
8. Light weight,
9. Durable,
10 Superior abrasion resistances
11. Accuracy of perforation size
Aluminum perforated metal sheet is widely used as decorative mesh screen. The aluminum perforated metal mesh also can be used in building wall power station, factory suspend ceiling wall and other source of noise in order to sound absorption.
Application:
√ oil field drilling
√ mine screening
√ engineering
√ sifting of grains
√ decorations and designs of building
√fencing screen
Aluminum Perforated Metal Sheet Specifications:
| | | | | |
| --- | --- | --- | --- | --- |
| Hole | Hole | Pitch | Number of Hole | Open Area |
| In. No. | In MM | In MM | Per Sq.Inch | In % |
| 3.00 | 0.50 | 1.09 | 627.02 | 19.09 |
| 3.25 | 0.55 | 1.25 | 476.00 | 17.50 |
| 3.50 | 0.60 | 1.25 | 471.00 | 20.90 |
| 3.75 | 0.70 | 1.35 | 408.00 | 24.39 |
| 4.00 | 0.80 | 1.39 | 385.57 | 30.05 |
| 4.50 | 0.90 | 1.39 | 385.57 | 38.04 |
| 5.00 | 1.00 | 1.67 | 267.12 | 32.53 |
| 5.25 | 1.10 | 1.67 | 267.12 | 39.36 |
| 5.50 | 1.20 | 2.00 | 186.24 | 32.66 |
| 5.75 | 1.30 | 2.25 | 147.15 | 30.29 |
| 6.00 | 1.40 | 2.50 | 119.19 | 28.45 |